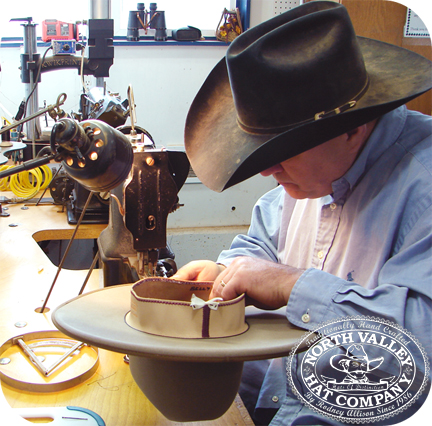 Over the last 35 years, World Renowned Hat Maker, Rodney Allison has risen to the very top of the hat making world. His quality and masterful workmanship has gained him the title of "The World's Premier Master Hatter". Rodney doesn't believe in mass production and automated equipment to make his high quality custom made felt hats. Matter of fact, he makes one hat at a time and most of his equipment dates back over 100 years. "Most innovations over the last century have only been geared towards production and not hands on quality", Allison Said.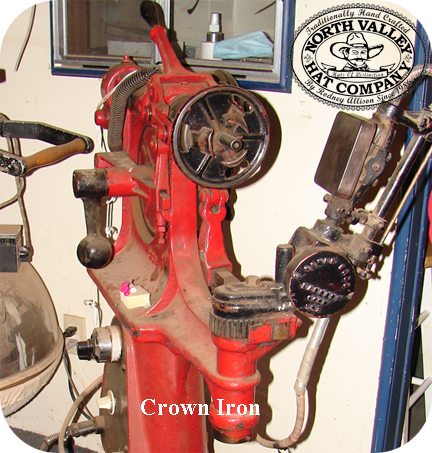 So, he sticks with the tried-and-true technology used during the hatters' 19th century hey-day. Working in a shop that looks more like a museum than a modern day business, Allison uses a 1870s "conformateur" to make a mini-map of each client's head. It's a mid-evil looking contraption that fits over the head and uses piano key-like levers and push-pins to make a printout of the size and shape of the head. Allison then uses another odd tool called a "formillion" which enlarges the printout to exact scale. "It's all mathematics", he said. He then chooses a wooden hat block according to size and finished crown style he will be making.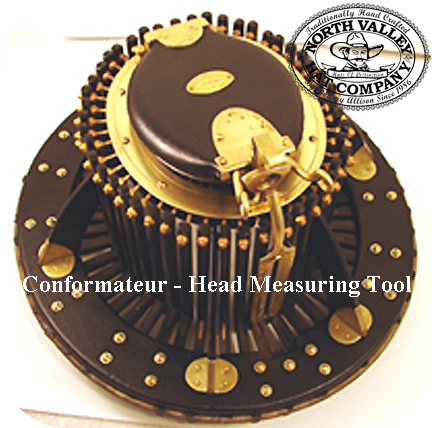 Next, he steams the felt hat body to soften it and pulls it down over the block. He irons the crown with another early machine called a crown iron and flanges the brim flat with another odd machine called a flange bag. His shop is filled with old Singer sewing machines all specifically designed for the hat trade in the early 1900s. 40 to 50 different hat making tools hang on the walls and hundreds of hat blocks fill the shelves. Rodney said, "if people stop wearing hats I always have an antique store here as well!" These old-time gadgets are not easy to find. "Any time I see hat making tools or equipment for sale I buy it. I have bought out three hat shops over the past thirty years and found bits & pieces here and there". The felt that he uses in his hats consist of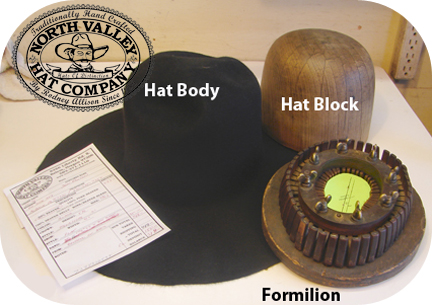 everything from 50 percent beaver-rabbit blend to 80, and 100 percent pure beaver, and even beaver-mink blends, and cashmere blends. His prices start at around $725 and go as high as $2895. But it's not the style, or even the quality of felt, that sets his business, North Valley Hat Co., apart from his competitors. It's the attention to detail and the way he puts a velvet-like finish on the felt hats. The finishing takes place in his "secret room", or the "back shop" as it is known in the industry."Felt finishing techniques are top secret among hatters", Rodney said. But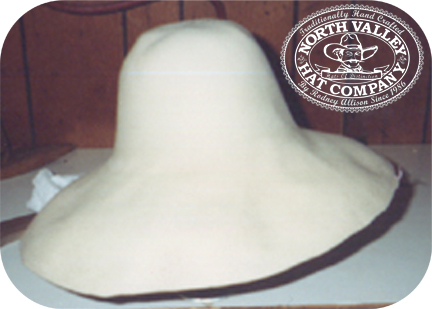 despite the trade's proprietary nature, he managed to glean a few felt finishing secrets from three master hat-making legends. "I think they sensed my true sincerity and desire to make the best felt hats possible. They all took me under their wings and taught me their special secrets and techniques. I guess you could say I'm a part of the good-ole-boys club". They all told him the same thing, "don't tell this to anyone!" "I think they were all just waiting for the right person to share their secret knowledge with before they died", Allison said. "It's like wanting to pass on your apple pie recipe.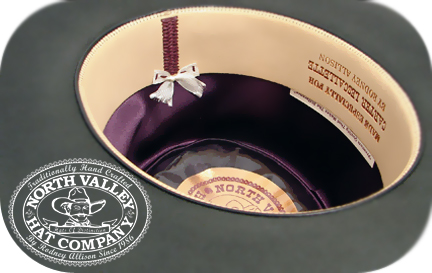 As it is, recipes are a good comparison to the hat business. Just as chefs tinker with their right combinations to produce the right taste, Allison uses his own system of trial and error to develop the finest felt finish. "If Edison was afraid to experiment we might not have lights, and I'm not afraid to experiment on hats", he said. "Because when you find something new that works even better it's like hitting the jackpot.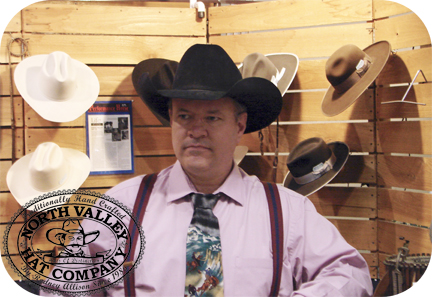 It's like putting that extra special spice into your recipe. As more people find out about the quality of his hats, the demand for Allison's hats continues to rise. That may be because Rodney Allison is recognized as the nations "premier master hatter." According to J.W. Brooks, a fellow hatter, "there are about 120 custom hat makers in the country, and Rodney is definitely the top one." Brooks said, "There are a lot of hatters that just pump out hats. That's not what Rodney dose. He doesn't make cheap hats". Allison said, "I only make about 140 hats a year. I could make 3 - 4 times as many, but I would rather be known for my quality than quantity. "I take it very personal when it comes to making good quality hats. I make each hat as if it is the most important hat I will ever make, because it truly is."While Allison has been practicing his trade for more than 35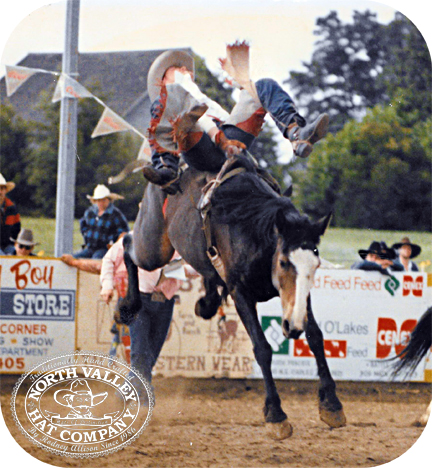 years, it was never his life-long dream. He literally fell into the profession after breaking his neck in a rodeo accident. His injury prevented him from going right back to riding bucking horses and doing construction work, so he started making hats at his previous residence near Woodburn, OR. While western hats are not rare in the Willamette Valley of Oregon, it is not exactly the cowboy hat capital of the country. But that hurdle was of no consequence to Allison, who had plenty of hat-wearing contacts through his years on the rodeo circuit. "Besides rodeo cowboys, I am surrounded by people in all aspects the ranching and horse industry", Allison said."I own and run a small rodeo production company, train horses, team rope, ride in the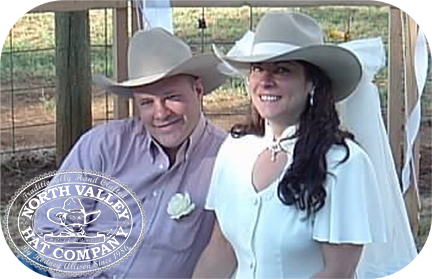 mountais, hunt, fish, and own small horse breeding operation with my wife Kassity.
There just seems to be hat-wearing folks everywhere." Allison doesn't compete with the mass-production manufactures, nor does he want to try. "There have been developments made to produce hats faster, but not better", he said. "That's why I still make hats the old fashions way, one at a time with tried and true methods. There are no shortcuts to quality here!" My interview with Rodney revealed his true western lifestyle and the personality of a man who sincerely strives for quality in all of his work and personal life.
~ Statesman Journal