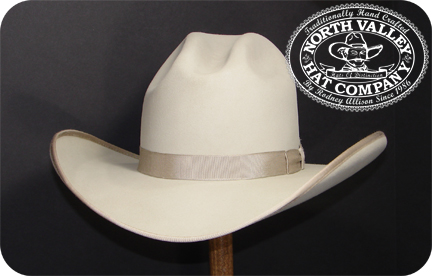 Dennis Aemmer - Washington
"Hey Rodney, I received my new hat today. It is the perfect shape, perfect fit, and the finish is like no other I have ever seen! I have been wearing custom made hats for over 25 years and yours tops them all. It is awesome in every way. I would highly recommend to anyone looking for a high quality hat to give you a call. It was a true pleasure meeting you. I only wish I had called on you long ago. Thanks again and I am looking forward to my next hat from you."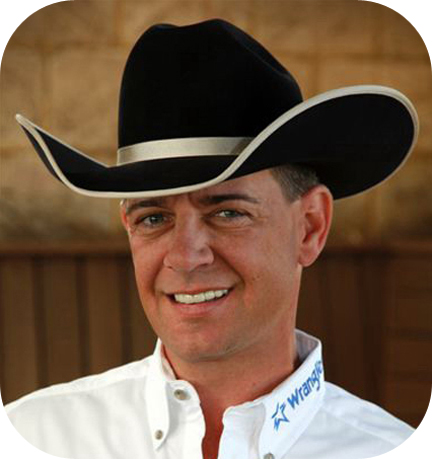 R.I.P. Chad Nicholson - Rodeo Announcer - California
"I gotta tell ya pal, the custom made hat that you built me is without a doubt the best money that I have spent since I got into the rodeo business over 19 years ago. I absolutely LOVE IT! Thanks for your friendship and putting out such a quality and classy product, that I believe to be the best kept secret in our business."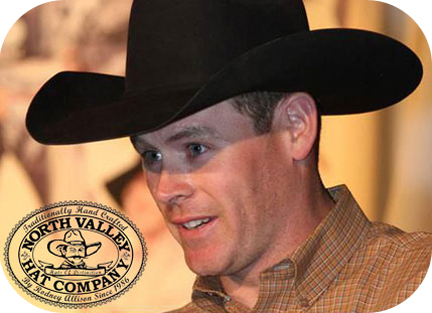 Ross Coleman - Retired PBR Bull Rider & Rancher - Texas
"Best dang hat I ever owned. You just can't get quality like this anywhere else, and that's a fact, I know!"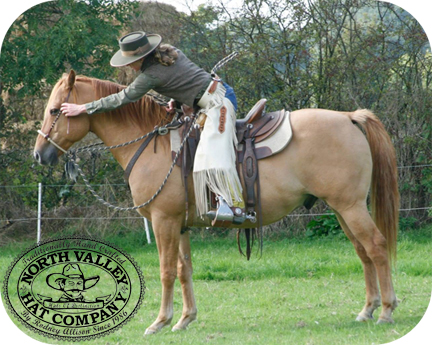 Lisa Bruin - Horse Trainer / Clinician - England UK
"Rodney's hats are the best quality hats we've ever seen. His attention to detail is second to none. The hats are beautifully finished from the finest materials, are classy looking, fit correctly and comfortably, and are worth every penny. Rodney's customer service is just fantastic and his hats are definitely the best hats We've ever owned. When you speak to Rodney, you know you are buying hat from someone who is passionate about his craft."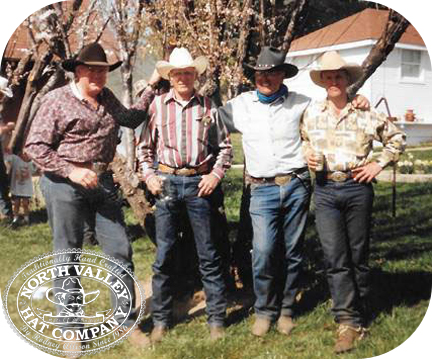 Bob Houdeshell - Rancher - Idaho
"North Valley Hat Co. hats are the best, most durable, high quality hats in the country. You really can"t afford not to own one!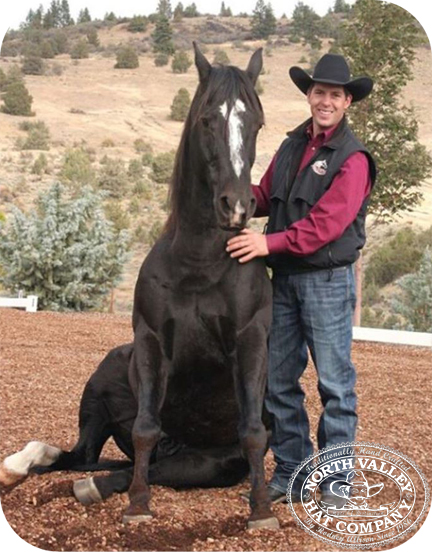 Steve Rother - Rother Horsemanship - Washington
"The quality, comfort, and custom style that Rodney provides are the best I have found. I have tried many other brands and makers, they just don't last like a North Valley Hat Co. hat. I put my hats to the test on a daily basis, they represent who I am more than any other one thing that I wear each day. That is why I choose the very best."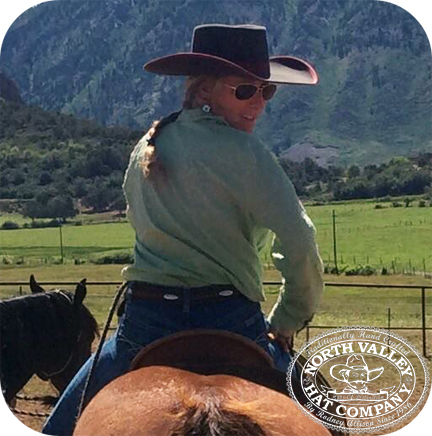 Caitlyn Taussig - Rancher / Musician - Colorado
"I got my hat last night! The color is perfect and beautiful!! I'm excited to wear it to all of my new gigs!"
Tim Burkam - Ohio
"The hat looks and fits to perfection. Sixty one years of wearing hats of all makes and qualities and I now own a truly fine hat! Thank you for your skill, patience and uncompromising devotion to my hat! My (new) hat is off to you sir! With greatest respect."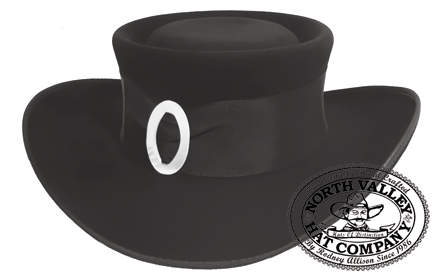 Colin N. - New York
"It is clear the hat represents the distillation of a great deal of thought on your part...and a lot of careful craftsmanship. I do not know of anyone else who could have done what you have done anywhere near as well. I am very grateful for all your efforts. Your work is absolutely spectacular....as I always knew it would be. I cannot even begin to conceive how the hat could be any more beautiful or well made. I am truly and deeply grateful for all your work. I do not believe there is another artist who could have done it anywhere near as well. Thank you from the bottom of my heart for sharing your many talents with me."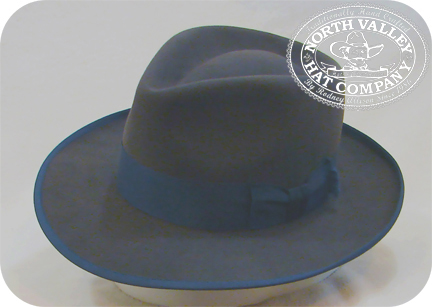 Michael John Ahlstrom - California
"I just wanted to drop a note about how much I love my new fedora. I have been wearing it every day since I got it. We had a massive rain yesterday, and you'll be proud that I am putting it to good use in the rain."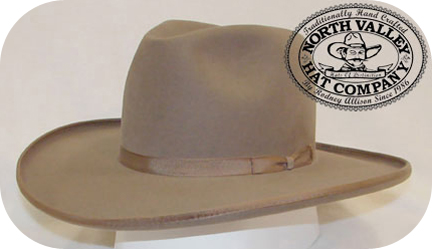 Richard Pring - Sakatchawan, Canada
"As usual, thank you for your quality workmanship, I am always proud to mention you as the best hat maker in North America!" "Thank You for your craftsmanship and attention to detail, you really nailed my likes with this hat!!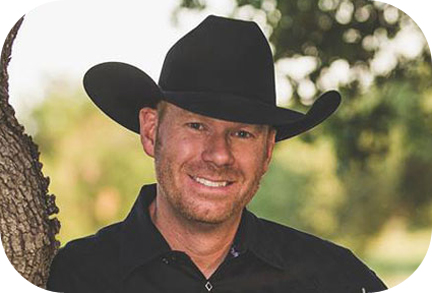 JW Brooks - JW Brooks Custom Hats
"There are about eighty custom hatters in the country and Rodney is definitely in the top three. His felt finishing is absolutely the best!"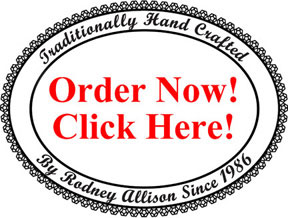 Neil Campbell - Alberta Canada
"I received my hat today and it fits perfectly and it looks great! Thank you very much! We will be letting people know that you plan to come back to the Canadian Finals Rodeo so they can order their hats from you."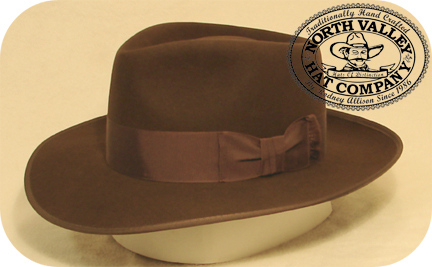 David Aiken - Oregon
The hats Rodney constructs are nothing short of outstanding. His craftsmanship is superb and his hats are worth the cost.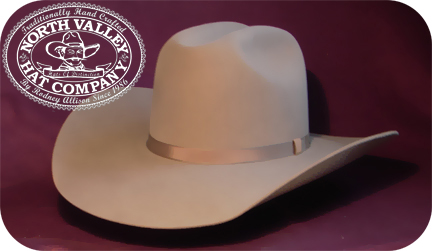 Vance Vesco - Nevada
"Just got my new hat this evening while in town. It fits great and looks great, you did an excellent job on it. It's really a testament to your skill and craftsmanship I know I will enjoy it for years to come."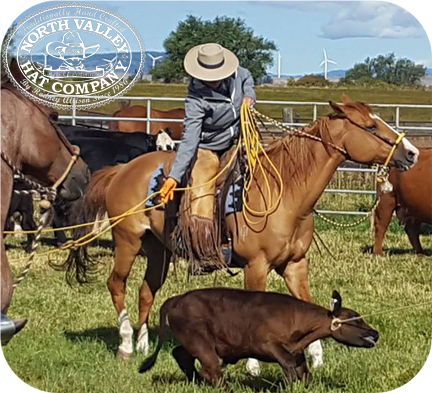 Denise Stringfellow - Washington
"I just received my new hat, and it is all that I had hoped for! Please save the recipe! The fit is perfect and is fantastic right out of the box. I love it! Thank you!!!!!!!!!!!!
Tim Patterson - Rhode Island
"Received the hat today. Looks fantastic. The fit is perfect. Look and fit are exactly what I wanted. It is a piece of art. Thanks so much. It's very obvious how much you care about your work. Thanks again. When I want my next hat I will be coming to you. Thank you very much. Headband adds to your craftsmanship. Appreciate your time and effort."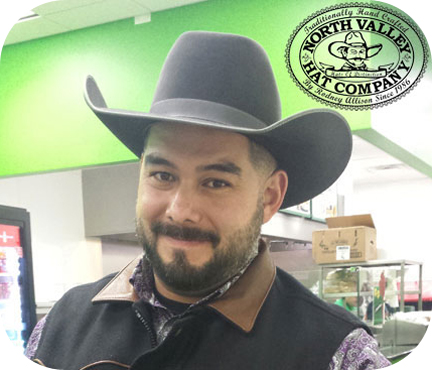 Felix Aldana - Illinois
"I just have one thing to say. I'm your customer for life!!! You made a hat that fits me perfectly. I'm 100% satisfied with my hat. It looks good, but more importantly, it feels even better. Your attention to detail is like no other, and you really take the time to make a one of a kind hat. All the materials are just like the hats that my grandfather used to wear (top notch). I appreciate your hard work, and thank you for making this outstanding hat for me."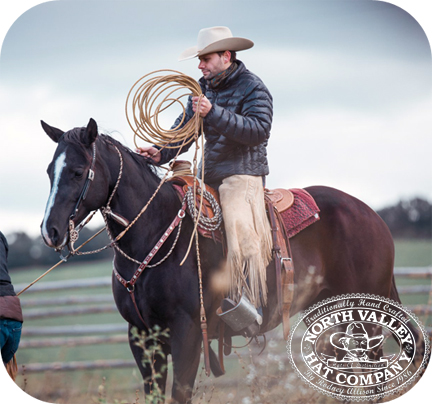 Marco Breitenbach - Germany
"My new Hat arrived today :-))) What an awesome Hat. Exceptional great workmanship and quality. You are a Master. Thank you so much!
Rich Rand - Founder - Rand's Custom Hats
"I know his work. He puts the nicest finish on a hat that I've ever seen!"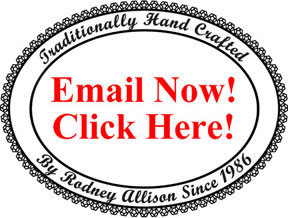 David Gibbs - Alberta Canada
"I just picked up my hat this morning!! It is everything I was expecting and more. Thank you very much."
Stacy Claitor - California
"I got my hat in. Super Cool!!! That color is perfect and fits great. It's really sharp looking. The big debut will be this Saturday at our Ranch party. Thank you so very much. I can't wait to make it my everyday wear. Thanks again for a beautiful hat."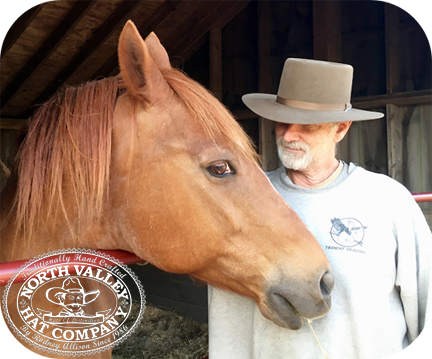 Jeff Cowles - Rhode Island
"Great job on the hat. It has been my pleasure to have gotten to know you a bit and your work and attention to detail is hard to find these days. Thanks again."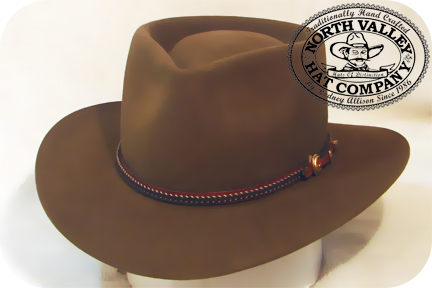 Mychael Pierce - California
"I just received the hat and it's awesome. The color is perfect, everything about the hat is what I envisioned. I like the 2" brim as well and it fits perfectly. I will be contacting you in a few months to make one just like it in Gun metal. You are truly an artist and it's a pleasure doing business with you."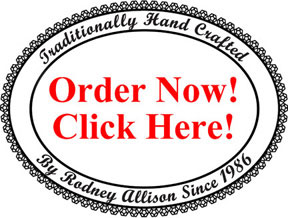 James Tracey - Washington
"The hat is everything I anticipated. My wife said that it is perfect! Many Thanks!
Nicholas Hayes - Kansas
Rodney made me the best hat I've ever owned. I'm very particular about how my hats are shaped- I've always shaped my own hat. I grew up on a horse ranch. Whenever we got a new hat, the first thing we did was fire up a pot of boiling water so we could shape our own hats- I'm particular about how my hat looks. Consequently, when I started looking for a hat maker I was very particular and did a lot of research; I wanted the best I could find if I was going to spend the money. North Valley Hat Co. fit my specifications. I have to admit, I'm not the easiest customer because I'm real particular about how my hat looks, but Rodney did not disappoint. He did a fantastic job. He shaped my hat exactly how I wanted & kept in touch with me throughout the process to ensure my satisfaction. I can honestly say, this is the finest hat I've ever owned! Thanks Rodney!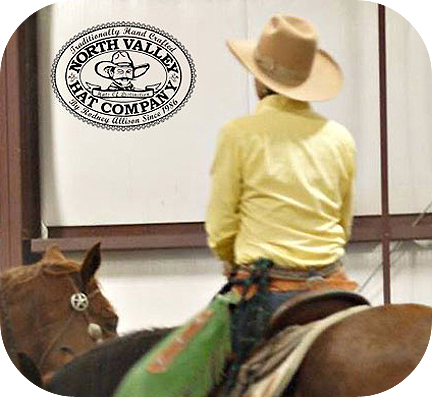 Jean Bänziger - Switzerland
The parcel with the new hat arrived. And I can say, it fits perfect !!! The color is really beautiful and it is perfectly processed ! I am very happy with this hat. Great job!!!"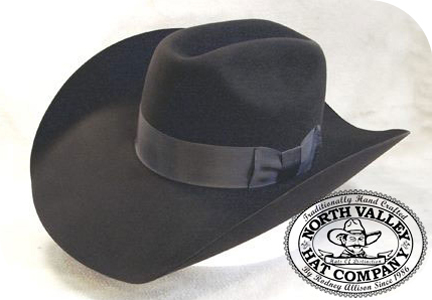 Trey Wimberly - Texas
"Thank you so much for the hat! I couldn't be happier with it! Looks amazing! Will definitely be back for another!"
John Carey - Minnesota
"Better than I ever expected. It was worth everything. I don't know how you do it but my hat is absolutely perfect! Thanks again. It has been a heck of a fun ride with you and I sent your information to a couple of my attorney friends. I'll get you some business. Have a great day. Have a great life. We'll be in touch."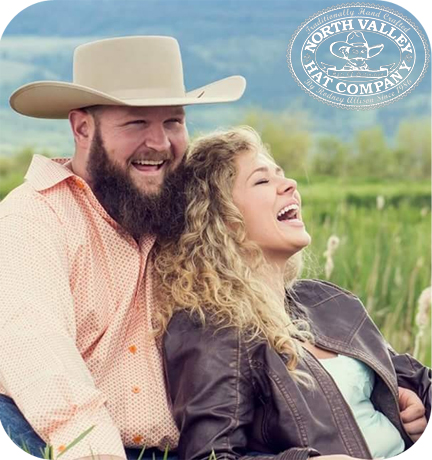 Dallas Lafrance - Oregon
"Thank you so much for making that hat it is amazing and fits like a glove. You are awesome, I will defiantly refer you to friends and buy hats in the future. Thank you again."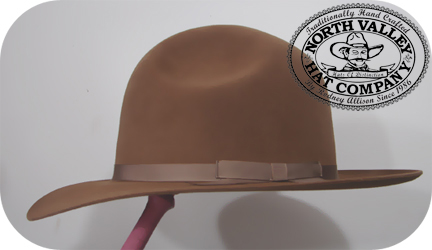 Bruno Moro - Florida
"The hat is great, I love it. Very comfortable and I like the way I look with it. I am confident it will also be very durable. Please do not throw away my measurements."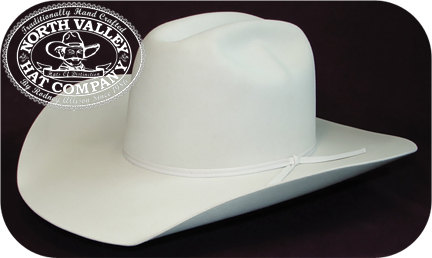 Cotton Randall- Nebraska
"Love the new hat and being in sales myself, I appreciate good customer service. Yours isn't good, it's great. Thank you."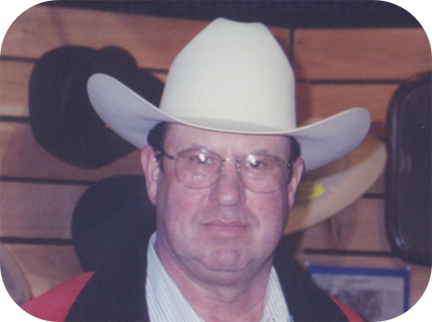 Ron Anderson - Rancher - Oregon
"The quality and durability of the hats Rodney makes are unbeatable anywhere. He's a true Master Hatter!"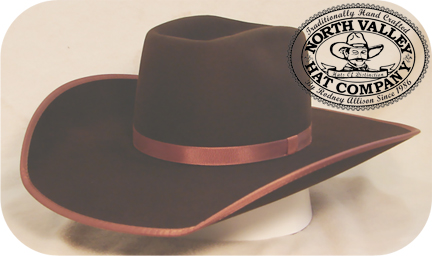 Stuart Thrash - Wyoming
"I received the hat and I really like it, you did a awesome job. There is nothing I would change about it, look forward to getting another one. I will definitely be recommending you to my friends. Thank you so much!"
Kathy Grimes - Veterinarian / Barrel Racer - Washington
"I just got around to opening my hat - it's beautiful & perfect and great fit! Thank you so much."
Bob Burns - Ohio
"Hat fits great, looks great, color is great! Best hat I've ever worn! I will gladly recommend you! I ill buy another hat from you soon!"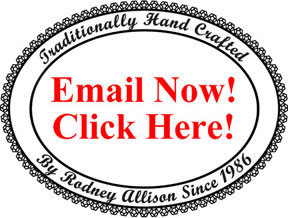 Gary Brown - Deer Creek Hat Store
"Rodney makes truly the best hand made custom hats I have ever seen in all my 38 years in the business. There are a lot of custom hatters, Rodney Allison is simply the best!"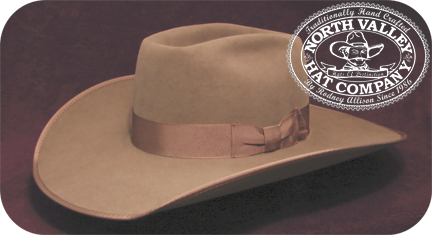 Seth Vesco - Nevada
"I just want to let you that I have received my hat and it is awesome... you do such an awesome job...Thank you so much!"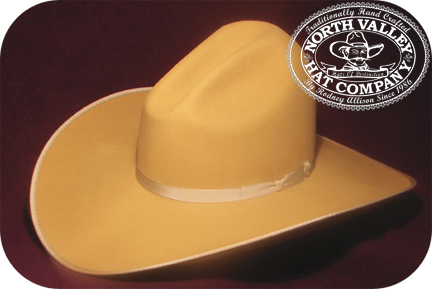 Richard Jensen - Attorney - Alabama
"Two years ago I bought a 100% beaver custom fedora from Rodney. It is amazing and never fails to draw compliments each time I wear it, which is usually every day. This month he delivered my new beaver custom "Gus" hat in a unique gold color I asked for and it's perfect!! Rodney makes incredible hats of impeccable quality. His hats are competitively priced with off the rack Stetson prices but much better in quality and finish! Skip the off the rack and get the custom hat you deserve from North Valley Hat Company! I'm a customer for life."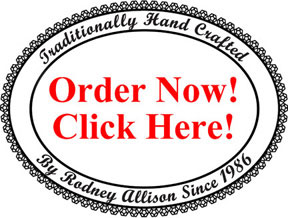 Russell Round - Colorado
"I got the hat today, it is really a great one. The fit is right on! I am amazed how you got that fit from your long distance methods?? That's great. One of the most striking things about this hat is that color! It is the most rich deep color of bone I have ever seen, or maybe that is just because it is of a high quality felt?? I am really pleased with that color, it really stands out. Thanks for a job well done, I think it was well worth the money and will certainly recommend your work to any one."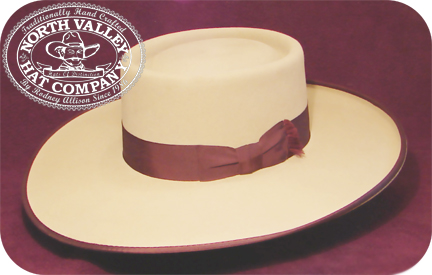 Bridget Gallagher - Idaho
"My hat arrived today! You sir are a true artist. It is simply fabulous. I am deeply grateful. Many many thanks for a job so superbly done."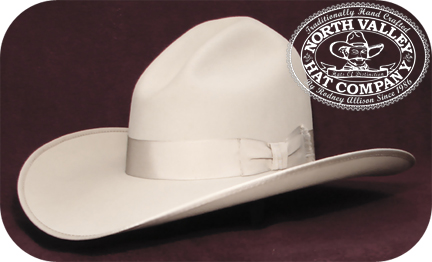 Ken Colvin - Texas
"I got the hat today and I can tell you that I am completely satisfied. You really did an excellent job. The hat is exactly what I wanted. Every detail is well done, in fact, above and beyond what I've seen from every other hat maker that I've had experience with. The hat fits just right. Once again, a big thanks to you sir."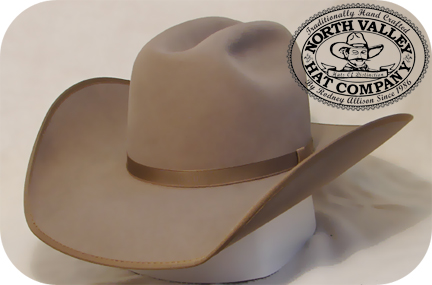 Steven Lundvall - Oregon
Bought a hat 2 years ago. Custom measured to my head at his shop and 100% beaver felt. I wear this every day and it has held up extremely well. Best hat I have ever owned; period.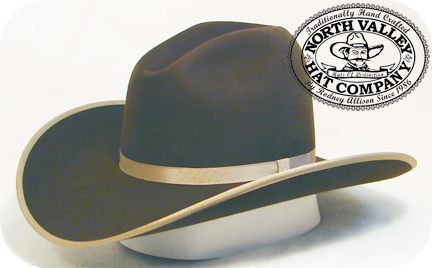 Jaclyn Levine - Montana
"I hope all is well. I received the hat and it is PERFECT!! Thank you so much!!!! I can't wait to wear it at the next event."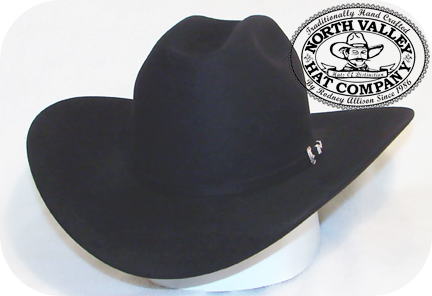 Lee Miller - Oregon
"I Just wanted to say thank you to Rodney Allison for the work you did on my dad's old hat. It fits and looks much better now. You even managed to bring back that soft to the touch beaver finish."
"No surprise then that the custom 100 percent beaver hat you just made for me is more perfect than I could have even imagined. Soft yet sturdy. Fitted to perfection."
"You are a true master of your craft. In a world of disposable goods where quality loses out to convenience, its nice to see that craftsmanship and uncompromising pride in ones work is still alive in America."